by Shaun McCabe
I was hospitalized for antibiotic treatment for cystic fibrosis, a genetic disease I have had since the age of 3. Since many of my friends are also near and dear friends of Hear Nebraska, I have been privileged to meet some outstanding musicians and artists.
If you wish to continue on the tradition of homemade correspondence from your band on the road, send contact info to shmcca84@yahoo.com, and I will provide a mailing address.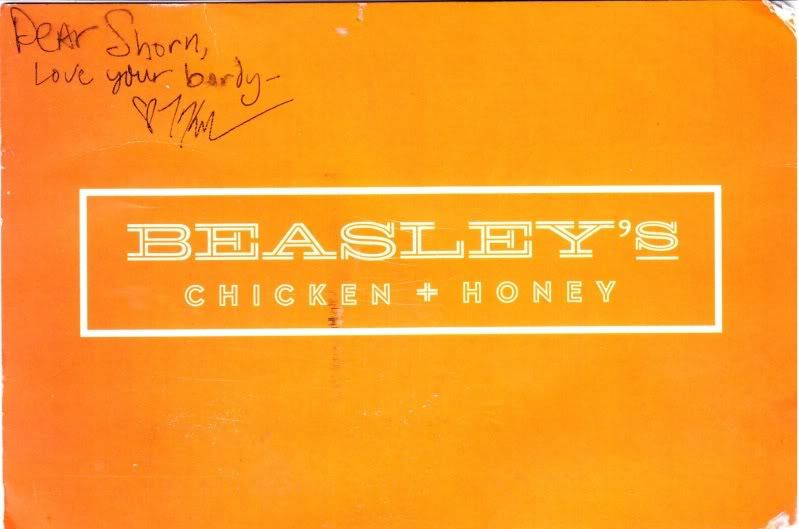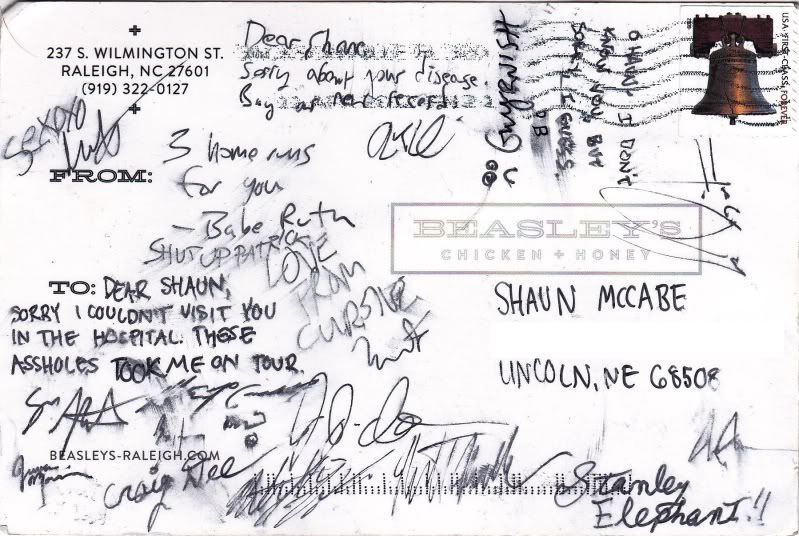 It arrived on April 16, a few days after arriving home from University of Nebraska Med Center. I had been told by Django Greenblatt-Seay to be on the lookout for exciting gifts, but this was definitely not what I had in mind: a handwritten postcard from the gentlemen and ladies of Cursive, Conduits and Cymbals Eat Guitars from their 2012 U.S tour.
I'm not sure if it belonged to "Shorn or Shane," but I accepted it graciously anyway. A pleasant surprise to a unimpressive early April. I planned on attending their show on April 22 at the Bourbon Theatre, but I had no intention of our meeting being as personal as this.
It's nice to see a genuine level of compassion within the Nebraska music scene. My heartfelt thanks to them for taking time out of their busy schedules of entertaining and as the postcard reads, do them a favor as well as myself and go buy their album. I Am Gemini is out now on Saddle Creek Records.
Here's a list of the signatures, too:
Sara Bertludo, Dan Brennan, Joe D'Agostino, Craig Dee, Matt Carroll, Brian Hamilton, JJ Idt, Tim Kasher, Roger Lewis, Matt Maginn, Nate Mickish, Matthew Miller, Jenna Morrison, Patrick Newbery, Stanley the Elephant, Ted Stevens, Gwynedd Stuart, Cully Symington, Matthew Whipple.